October is BC Craft Beer Month (since 2011), and being that the Qualicum Beach Civic Centre has just hosted its first ever Oktoberfest, I thought it perfectly fitting to focus this month's newsletter on our very own burgeoning craft beer scene here in the Oceanside area. There was a time when I thought that a beer was just a beer, but for the last decade or so microbreweries have been popping up everywhere offering up unique, flavourful, creative beers. These brewmasters really have been pouring their craft into "Craft Beers", providing us with a glorious selection of brews to choose from depending on the season, event, location, mood, whim or fancy.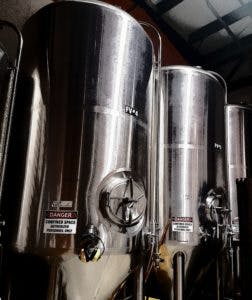 Parksville/Qualicum Beach is home to two craft beer breweries, Mount Arrowsmith Brewing Company, and Love Shack Libations. I had yet to have the pleasure of visiting either tasting room so I invited my brother, Cody, to be my "research" buddy and we hit the town to taste some of the local flavour. After checking them both out, having tasted some delicious beer, and having a ton of fun at both places, what struck me most was how cool it was to see two local breweries each operating in entirely different ways. If you haven't been in to see what these folks are up to, dear reader, read on.
Both are small, independent breweries creating their own unique recipes, and both provide a public tasting room where guests can sit down and drink beer or buy beer to take home. Neither offer food, but both are more than willing to have food delivered or brought in for you from a nearby food truck. They also both facilitate private parties. But this is where the similarities end.
Our first night out was at Arrowsmith Brewing Company. Their tasting room seats 20, and on a Tuesday night at 6:30pm, it was packed! There are a couple tables that can accommodate 4-6 people at a time, and room to sit at the bar. The room is done in a West Coast modern design; crisp, clean lines juxtaposed with cedar and stone. We squeezed in at the bar which was great because we got a chance chat with the gal serving us. She gave us a rundown of the beers on tap and we each had a flight of four beers, which equals 20 oz. Between us we were able to try all six beers available, four of which are available year-long: "Comfortably Chum" Hefeweizen, "Salish Sea" Pale Ale, "Jagged Face" IPA, and the "Arrowsmith" Blonde Ale. Also on tap were two seasonal beers: "Tropical" fruit-infused IPA and "Sea Run" Saison, soon to be phased out for something new. We each had our own favourites, mine being the Blonde Ale, and Cody's the Saison. Our server gave us a mini tour of the back room where the brewing is done and where private parties are held. It was pretty cool, seeing all those enormous, gleaming stainless steel tanks tucked into a not-so-big space. It got me thinking about, and admiring, Mount Arrowsmith Brewing Company's business model and their chosen path.
Producing only four core beers allows MABC to maintain the high level of production necessary to stock the shelves of 45 different liquor stores from Victoria to Port Alberni and Courtenay, and keep the taps flowing at 24 mid-island pubs and restaurants. Lest we locals start to feel a little
left behind, their tasting room provides us with something only to be had here in town. It is here that will you will find the limited release brews such as the Fresh Hop IPA and the soon-to-be-released Porter. You can also get your 1 litre grumblers and 1.9 litre growlers filled, and stock up on various MABC swag such as shirts, hats, and glassware. Located just off Stanford Ave, and open seven days a week, Mount Arrowsmith Brewing Company is a great place to gather with a few friends for a tasting flight or a sleeve.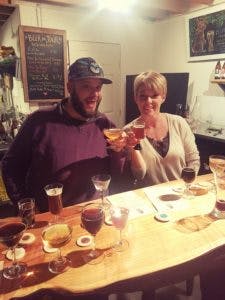 Our second evening of "research" took us out to Love Shack Libations, just off the Old Island Hwy in Dashwood. The entrance is very unassuming. In fact, if you weren't looking for it, you'd blow right by. As mentioned, neither of us had been there before, so we were a bit confused when we walked into what seemed to be a tight little foyer/office-type space. I thought we must have had the wrong place but luckily someone ushered us through another door that opened up into a larger space used as the tasting room and brewery.
It was 7pm on a Wednesday and the place was jammed. Who knew these little breweries were such hot spots? There was only one table that I could see, made out of a section of cedar tree that has been split lengthwise down the centre, and it seats about 10. Cody and I pulled up a couple bar stools and perused the menu board. Eight beers to choose from! This meant that we each had to have two flights but, in the name of science and research, we happily obliged. We were served by owner/brewmaster Dave Paul, who set us up with our first four beers: "Killer" Kolsch, "Crafty" Cream Ale, "D.P.A", and "Precious" Porter; served in a mismatched jumble of vintage cocktail glasses purchased at the S.O.S., in downtown Parksville. It was at precisely this moment that I fell in love with the modest, eclectic charm of Love Shack Libations.
The Love Shack vibe is one of jovial sociability. The narrow tree/table, and the fact that there's no cell service inside the tasting room, encourages an introduction to the folks sitting across the table. Throughout the evening we met some really great people, both locals and out-of-towners, and our table-wide conversations quickly progressed from the flavour profile of the beer to action movies, limericks, old high school teachers, and an accounting of the lessons learned from first-time encounters with "strong" beers.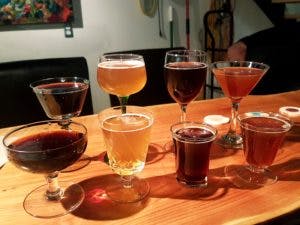 When our second flight landed in front of us: "R.P.A", "See Ya Summer" Saison, "Dingo Nut Brown Ale", and "I.R.A", we laughed riotously at all of the IRA/beer puns we came up with. There were two separate birthday boys amongst us, to whom the entire room boisterously sang "For He's a Jolly Good Fellow", and throughout it all, our excellent host and brewmaster educated us all on his brewing methods and techniques. He showed us the dehydrated ground hops that he uses, and passed around the aromatic magic ingredient used in the Dingo Nut Brown Ale. We learned that he brews, and bottles by hand(!), all of the beer right there in the Love Shack. All of the beer served is poured from bottles (no draught, kegs, growlers, or
grumblers) in order to keep equipment costs low and production simple. At one point, Dave's wife, Rachel, and their lovely daughter, Morgan, popped in to say hi and it really highlighted my growing sense that although Love Shack Libations is about beer, it's also about community, friendships, and fun.
Love Shack is only open twice a week so if you want to sit down for a flight or a pint, or buy some beer to stock your fridge at home, you've got to be organized and get there on a Wednesday evening or a Saturday afternoon. Otherwise, you can slake your thirst at Pacific Prime at The Beach Club Resort, Island Soda Works in Qualicum Beach, or five other restaurants within the Oceanside area.
I have to admit, checking out these two breweries was a ton of delicious fun! Each place has its own identity and ambience, and both serve some damn fine beer. I love seeing small, local businesses thrive by keeping their individuality, staying true to their vision, and producing an
amazing product.
Now, get out there and taste for yourself all that Mount Arrowsmith Brewing Company and Love Shack Libations are brewing up for you!
To learn more go to:
www.loveshacklibations.com
www.arrowsmithbrewing.com