I've always found January to be a bit of a no-man's land of a month. There's so little going on in comparison to the bustle of December, and I haven't yet started to feel February's giddy promise of spring. It's just winter. Cold, boring winter. Maybe I'm suffering from an emotional holiday hangover? The holiday dust has settled, party dresses put away, elaborate feasts but a delicious memory, and visiting relatives have gone home. The tree has been taken down, decorations put away, and the pine needle/glitter debris swept up. The lack of ornamentation around the house, and social events on the calendar, gives me simultaneous feelings of freedom and loneliness.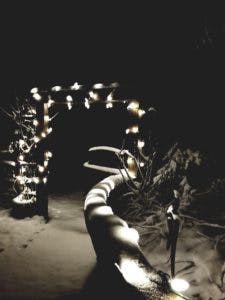 After all of December's grand festivities perhaps January is a time to focus on the little joys, the small gratitudes, and subtle beauty that surrounds me. Perhaps January will be my month to practice the Danish art of Hygge.
Hygge, pronounced "Hue-Geh", is a Danish word used to describe a feeling of cozy contentment and a sense of well-being while enjoying the simple things in life. Hygge has been a part of Danish culture since the1800's and was presumed to have been created as a soothing balm for the soul during their long, cold winters.
Hygge can be experienced anytime, anywhere, with anyone, and only requires one's conscious appreciation…a certain awareness of one's surroundings…and the ability to not just be present, but to recognize and savour the present moment.
How can we bring more hygge into your life? As hygge is a feeling, not an object, it cannot be bought. However, there are certain items that can definitely enhance hygge. Pretty much anything knit will do the trick: thick socks, blankets, scarves, oversized sweaters etc. Candles, a beautiful mug, or Gram's handmade quilt all encourage hygge . You can also curl up with a book and a blanket on a rainy day, stay in with friends and cook dinner together, pour yourself a cup of hot chocolate, bundle up and take a walk in the rain with your dog. Although winter seems the most obvious time to feel hygge, summer provides plenty of opportunity as well: campfires, outdoor dinner parties, and picnics in the park are all ways of creating hygge.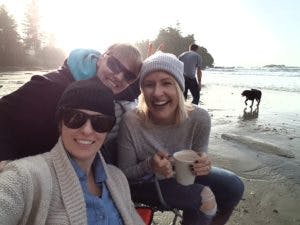 There are certain places around the Oceanside area that have a natural hygge vibe that I just love. The first, of course, is my tiny cabin. It's just so cozy (that's "small" in realtor speak), we have a little wood stove, and I can curl up on the couch and look at a forest of snow-covered trees while I sip my tea. I'd invite you over to visit but it really is very small, and I think we'd all feel a little too hygge for comfort! I also love The Whiskey Creek Farm​. Here you can sit in their garden or bakery, watch the chickens roam the yard, have lunch, or bring home some of their incredible gluten-free goodies. Unfortunately, they are closed until February but be sure to check them out then. Love Shack Libations'​ natural hygge-ness will charm you immediately upon entry. Whilst sharing a pint with strangers you'll start to feel you've gained a whole roomful of new friends. You could also snug up in a corner of The Black Goose Inn​ and let the roaring log fire and comforting food lull you into a state of hygge. Bread and Honey ​and Rusted Rake Farm​ are two other Hygge spots with delicious, made-from-scratch, locally-sourced menus. You can't help but get the warm fuzzies when their food is in front of you!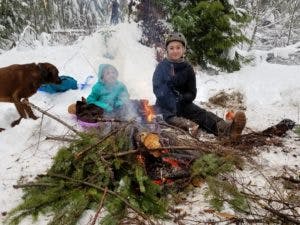 Hygge can bring joy and gratitude into our lives when we least expect it. All we have to do is slow down and recognize the beauty of the present moment. Instead of complaining about the bad weather this winter, light some candles and hunker down with a cup of tea and that book you've been meaning to read for months. Or if you're feeling more social, cook up a pot of your famous chili recipe and invite your friends over for a board game night. Have fun getting hygge with it!
Written by
Miranda Scott
The Oceanside Life